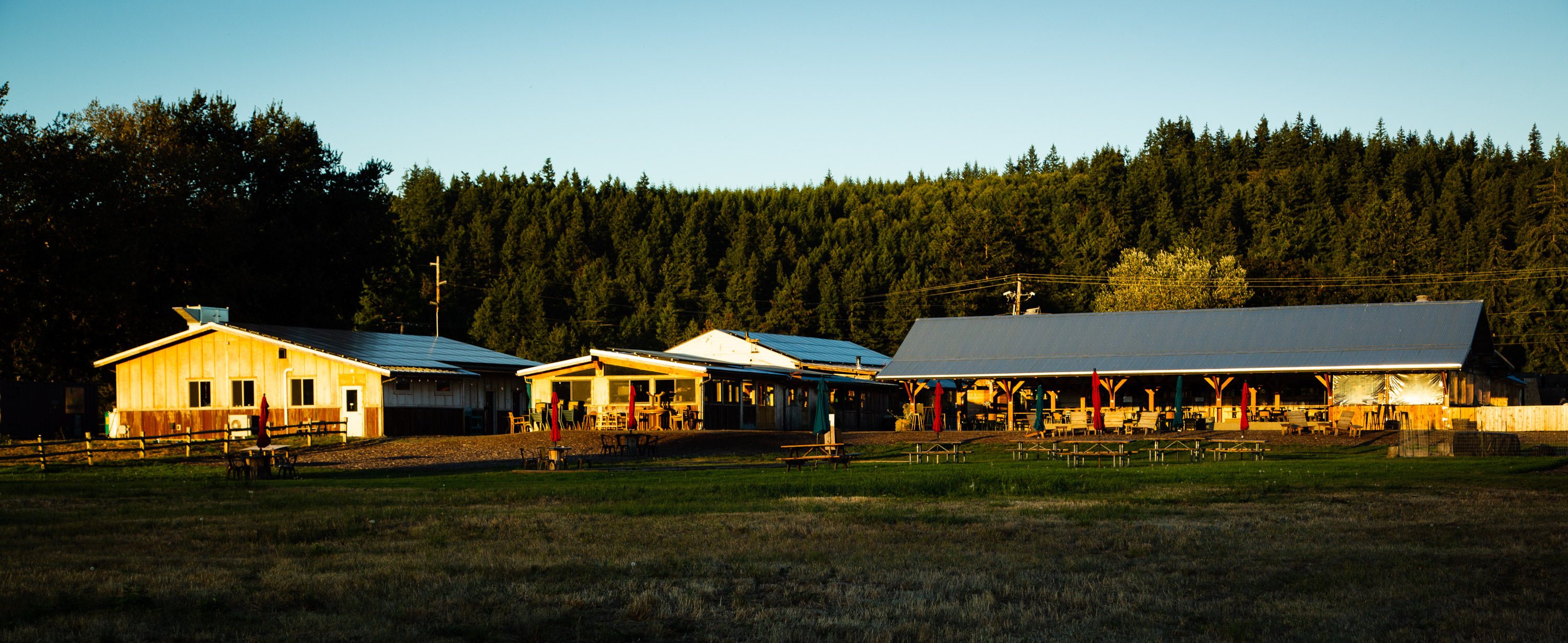 50-acre organic farm and orchard with a mission to reconnect people to the land. Open 12PM - 8PM for orchard tours, cider tastings, farm kitchen, live music, and more. See 20th Anniversary Special Events.
MORE ABOUT FINNRIVER
The Finnriver Orchard, located on a historic former dairy just south of the Chimacum crossroads, grows 6,000+ organic heirloom and traditional cider apple trees and the land is also shared by a collaborative of farm partners doing organic research, education and enterprise. Finnriver ferments over 30 craft ciders along with a range of Brandy Dessert Wines, Port-Style Spirited Wines and our oak-aged Pommeau.
Finnriver has a mission to celebrate the beauty and bounty of the land, to reconnect people to the land that sustains us and to grow community! Throughout the covid pandemic we have remained inspired and fortified by our mission, while we are also learning to adapt, change and grow. We are committed to getting to the other side of this together with our farm neighbors and community and hope our shared experience of the complexity and challenges of this time will increase our capacity to work and evolve together. The pandemic has revealed both strengths and weaknesses in our community food system and we are motivated to continue working for greater resilience and equity in our foodshed.


OUR PRODUCTS:
Our bottles are available to purchase on our website store, or by the bottle or by the glass at our Cider Garden when open. We also operate several lively Cider Clubs offering discounts, tastings and other benefits for members around the country!


VISIT US!
The Finnriver Cider Garden is currently open for sit-down service on Friday, Saturday & Sunday from 12-8pm, However, due to poor air quality be sure to visit the Finnriver website for updated hours and possible closure.
We are very glad to offer sit-down service during Farm Tour weekend at Finnriver! We will also be offering a special Farm Tour Food and Cider pairing which will be available for purchase all weekend!
We have worked diligently to implement hygiene and safety procedures and our intention is to offer a comfortable and caring place for you to enjoy our farmcrafted draft ciders, local food from the Finnriver Kitchen, bottle purchases and a taste of life on the land. For more information, please visit our website.
Note, due to more limited table availability, there may be wait times for seating. A Finnriver greeter will be there to meet you at the entry silo to give instructions. As always, if you are not feeling well, we ask you to defer your visit to another time. We offer a selection of over 30 farmcrafted hard ciders and fortified fruit wines, including:
Contemporary Ciders such as Dry hopped, Black Currant, Habanero and Pear
Traditional Ciders, Orchard Series, Pollinator Series, Sour Ciders and more!
Sweet Brandy Wines, Port Style Spirited Wines, and Pommeau.
For the Farm Tour, we are pleased to offer a Farm Tour Exclusive Local Pairing by Finnriver Kitchen and Cidery with a Finnriver farmcrafted cider and locally grown and crafted goodies to celebrate local bounty! Farm Tour Pairing and all other bottles can be purchased on our website for take out or shipping HERE.
CONTACT