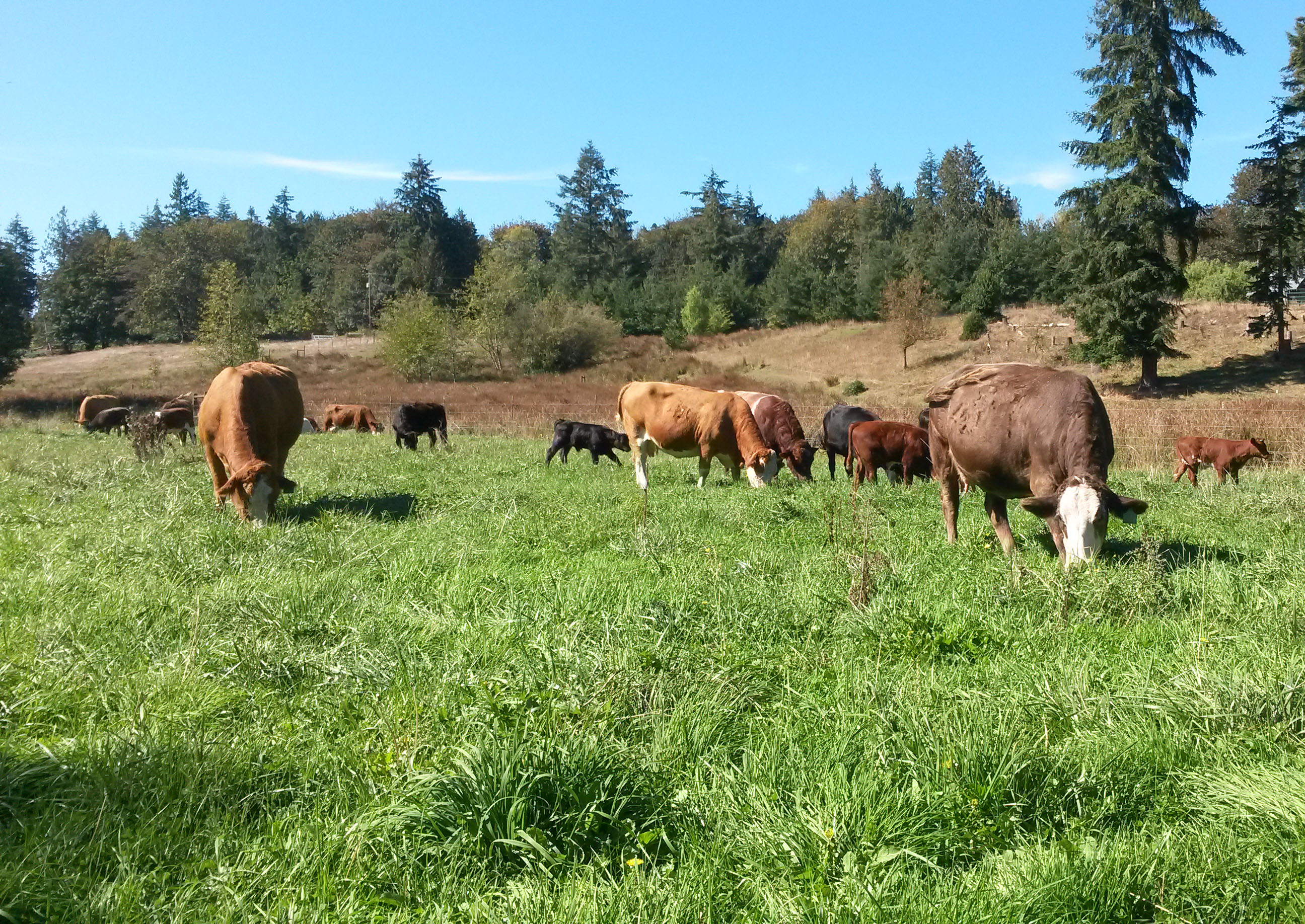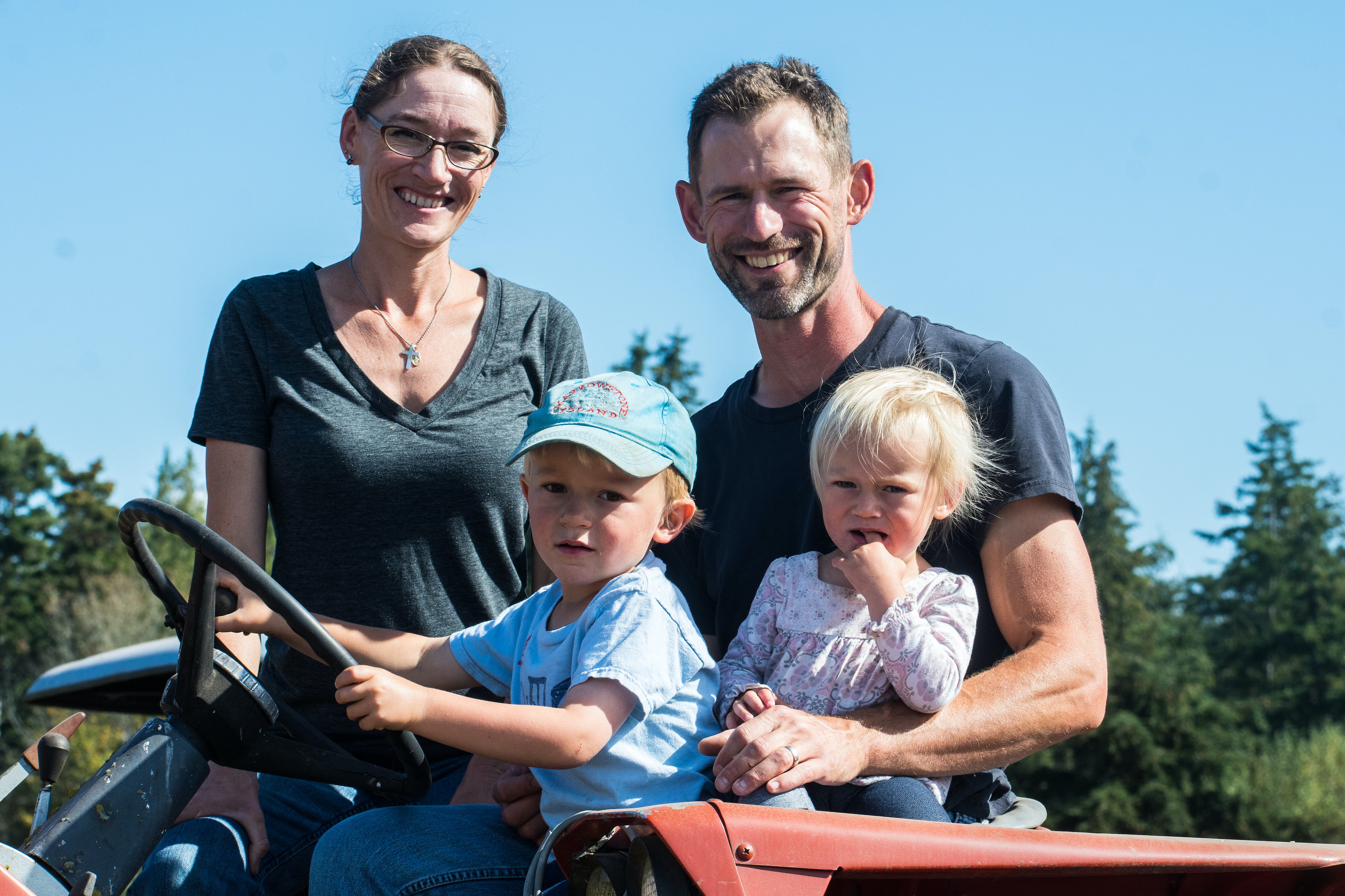 One Straw Ranch raises cattle, pigs, and chickens. It is our mission to provide you with delicious, ethically raised food that regenerates the health of our environment and our communities. All our animals are pasture-raised and fed without any additional hormones or unnecessary medications to produce delicious, wholesome food for you and your family. Our beef is 100% grass-fed and the non-GMO grain for our pigs and chickens is sourced locally.
MORE ABOUT ONE STRAW RANCH:
Martin and Charlotte Frederickson, who raise livestock on pastures in Chimacum, Marrowstone Island, and Port Townsend, are both locals who grew up with animals, though neither ever expected to own a farm business. They met in 2013 through mutual farming friends and their professional backgrounds in business ownership, bookkeeping, and landscape architecture served them well as they began developing One Straw Ranch.
The current home of Martin, Charlotte and their two farmhands, Eli (4) and Vera (1) is on Marrowstone Island, where they tend their pigs, sheep, poultry, and a few cows. However the "home farm" of One Straw Ranch, and the future home of the farmers, is in Chimacum on land that Charlotte's parents carefully tended and raised cattle on for years. Much of the One Straw cattle herd resides in Chimacum, as they are responsible enough to stay home alone with daily visits from the farmers. One Straw Ranch also grazes cattle in Port Townsend, at Natembea Northwest.
The farming practices of One Straw Ranch reflect the inspiration for their farm's name: The One Straw Revolution, the manifesto of Japanese farmer Masanobu Fukuoka. His natural farming principals set a backdrop for the goal of farming in a regenerative and ecological manner by working with natural systems, rather than against them. Martin and Charlotte also believe in the power of livestock to repair and improve soils. By intensively managing their livestock in a rotational grazing setting, they create a thriving grassland ecology that acts as an effective carbon sink and provides habitat for diverse wildlife. Managing livestock in this healthy fashion also creates exceptionally flavorful and nutritious meat that they are proud to provide to their community.
OUR PRODUCTS:
100% Grass-fed Beef

100% Grass-fed Lamb

Pasture Raised Pork

Pasture-Raised Eggs

Old Fashioned Soap

Yarn, Roving & Raw Fleeces
HOW TO PURCHASE:
Our

online farmstore

– choose from multiple pickup locations or home delivery (Port Townsend and Tri-Area)

Chimacum Corner Farmstand

PT Food Co-op

Prepared deliciously by Finnriver Cider Garden, Crust Pies, and other local food purveyors
A TOUR OF THE FARM
If you could spend a day on the farm, during the dry months when the grass is growing, you would see the pigs rooting in the dirt (they love stinging nettle and blackberry roots!) and grazing on pasture plants. In the wet months, when the soil is sodden and easily damaged by foot traffic, you would find the pigs inside a deep-bedded hoop house, happily rooting around in the bedding, grazing on alfalfa hay, and lounging in the warm dryness of their winter home. Branches blown down in windstorms make for excellent playthings and snacks. The non-GMO grain the pigs receive is purchased locally and mixed on the farm with organic supplements to create a well-balanced diet.
The chicken flock is managed in a nearly identical way: out foraging in the pastures during the dry months and scratching in the deep bedding of a warm, dry hoop house in the wet months. This system is excellent for the health and well-being of the animals, as well as the soil. The chickens also receive a farm-mixed ration of non-GMO grain and organic supplements, plus free choice alfalfa hay in the winter, for a healthy diet. The chickens, along with the pigs, are also happy recipients of windfall tree fruit, garden weeds, and those zucchinis that just got too big.
The cows are managed through rotational grazing practices, where the herd is moved frequently to new paddocks. This management-intensive practice means lots of mobile electric fencing, moving of water troughs and salt/mineral tubs, and lots of walking (on the farmers' part), but it results in the most efficient use of the pasture, the most soil improvement, and the healthiest cows. Increased biological soil activity, more soil organic matter, improved water retention and carbon sequestration are all happy side effects of raising delicious beef. In the winter, the herd receives local hay plus alfalfa to meet their protein requirements for optimal health. They never receive grain.
The sheep are managed in the same manner as the cows, though they require electro-net fencing (rather than the single strand of hotwire that works with the cows) to both keep them in and keep the predators out.
One of One Straw Ranch's many goals is to provide more local, high quality, conscientiously raised food to more local folks. As part of this goal, they are excited to have formed new partnerships this year with other local farmers and food artisans who produce exceptional products. When you order on the website, you can also order products from various local producers and receive everything at one of several pickup locations or through home delivery (PT & Tri-Area).