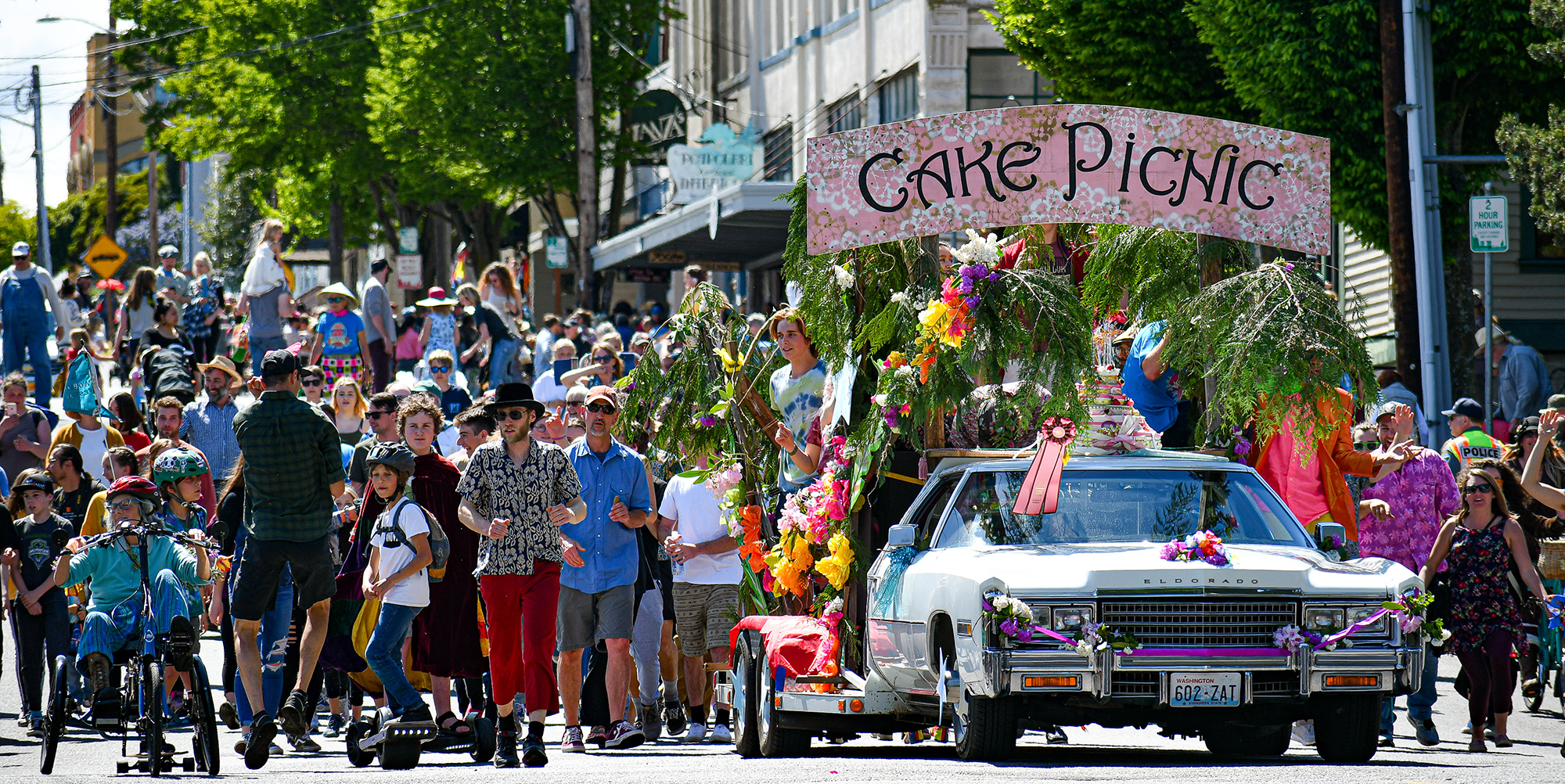 About
Cake Picnic 2021
PLEASE NOTE!!!
We are taking the escalating Delta variant of Covid very seriously in the planning of this Cake Picnic. We hear peoples concerns about the transmission of the virus and do not take this lightly.
We recognize that Rhody Fest and Cake Picnic will bring together a crowd of people and there will be dancing, cake eating and socializing. Below are some of the reasons we are moving forward with this event and things we are doing to mitigate the potential transmission of the virus:
OUTDOORS - Our event it is 100% outdoors. Outdoor transmission of the virus seems to be extremely uncommon.
SMALLER EVENT - The event will be much smaller than it traditionally is. There are 1/3rd the typical parade entry's in the Rhody Parade. We expect a smaller than normal crowd.
LARGER FOOTPRINT - We have expanded our event foot print to give people more space to spread out during the event. We encourage people to spread out and social distance when possible. Especially on the dance floor.
MASK UP!!! - We encourage everyone to mask up!!! Our team will all be masked to help promote a culture of mask wearing during community events at this time. We will have free masks available during the event.
STAY CLEAN - There will be hand washing and sanitizing stations throughout the event to encourage safety and cleanliness
We encourage all people displaying symptoms of Covid to stay home and rest up and we honor all those who choose to stay home and play it safe! Safety is hugely important to us, as is human connection, joy and celebration. We love our community beyond measure and have every intention to stay nimble and adjust plans as community protocol changes.
With all that said, below are the most up do date event details. There have been a few last minute changes.
____________________
Rhody Fest
Cake Picnic
August 14th
The Production Alliance kicks off our 2021 Season of Events with the 9th annual Cake Picnic.
Parade begins at 12PM (Noon) on Lawrence Street in Uptown Port Townsend and winds downtown to conclude at Pope Marine Park. Festivities culminate in Cake Picnic reveille.
As always, TPA invites all too walk or pedal alongside the iconic '78 Cadillac flatbed float before joining us for live music, cake, dancing, and all-ages , family-friendly fun. PLEASE WEAR A MASK.
Baker Kellen Lynch leads the culinary team again this year, while DJ Captain Peacock and the Unexpected Brass Band bring the beats.
This years Cakes include Blackberry and Lemon Cake with Italian Buttercream, and Sarah Spaeth's gluten free Spiced Chocolate Cake with Dark Chocolate Ganache.
During the Picnic local artist Thaddeus Jurczynski will be hosting an animal mask making workshop for all interested in getting their craft on. Supplies provided.
We have an awesome new T-Shirt designed by Maria Mileto. It's super sweet and will be available for sale at the event while supplies last.
Cake Picnic is made possible thanks to an amazing team of volunteers, including Lead Baker Kellen Lynch, and generous donations from the public. TPA would also like to thank Better Living Through Giving for its Spark Joy grant support. Additional event sponsors include; The Food Coop, Jefferson County PUD, Blue Heron Construction, Ecliptic Software, Jefferson Land Trust, New American Funding, Enjoy Olympic Peninsula, KPTZ, and The PT & Jeff. Co. Leader.
EVENT SCHEDULE:
12 Noon - Grande Parade leaves Uptown PT (CP is the final parade entry)
1PM ish - Cake Picnic Float lands at Pope Marine Park!
Cake Service Begins!!
DJ Captain Peacock
The Unexpected Brass Band
4PM ish - Community Portrait & Closing Ceremony
2020 Video of Cake Picnic!
Filmed and Edited by Tomoki Sage and Allison Barret