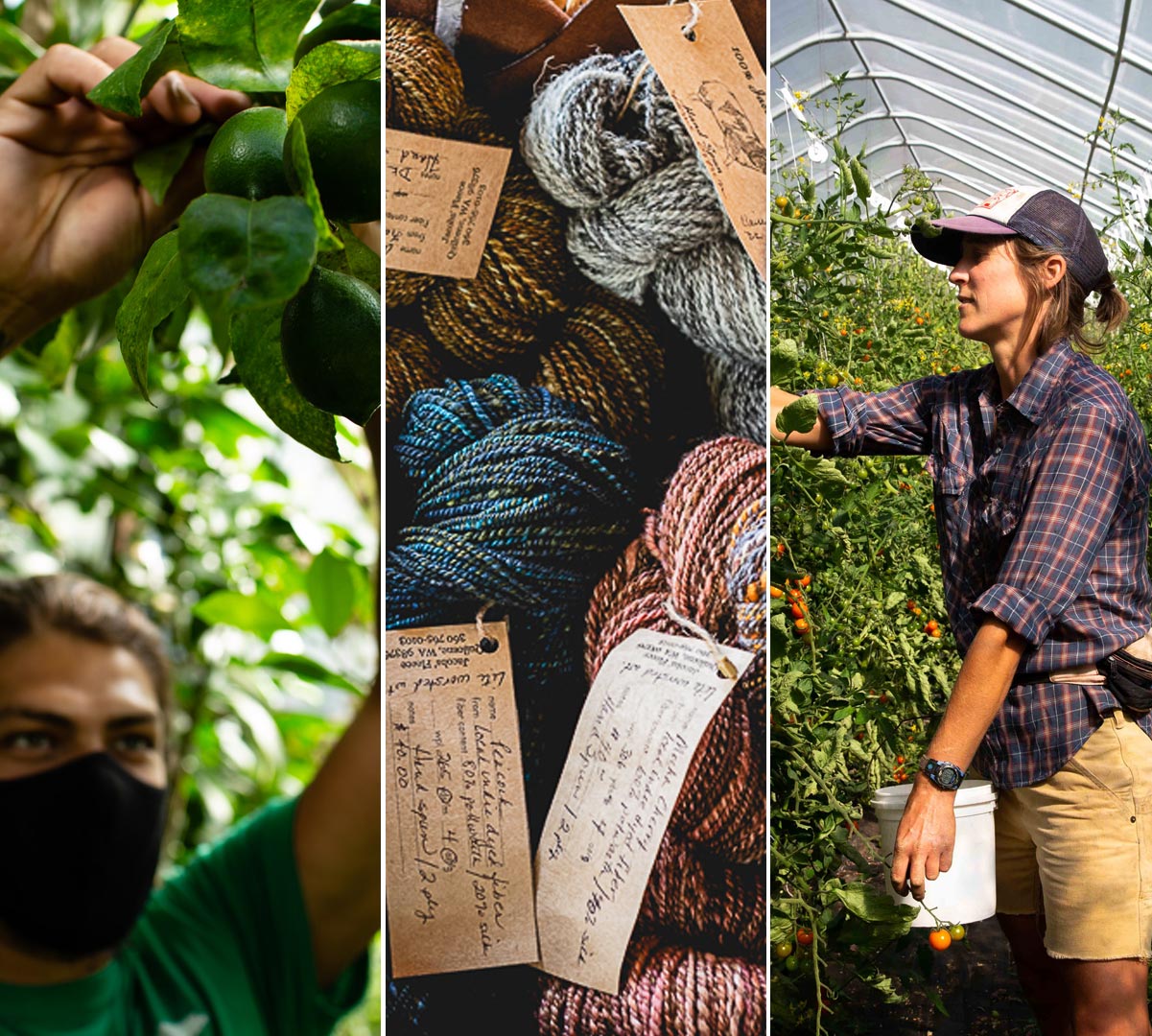 About
Video by Tomoki Sage & Allison Barrett
20th annual Jefferson County Farm Tour September 16-18, 2022!
Our Mission:


Celebrate locally grown food, fiber, and farm-made products
Invite community members to learn from and engage with their local farmers
Stimulate economic opportunity for farms in Jefferson County
Participating in Farm Tour is FREE but there is a suggested $10 donation per car, which can be paid at the farms or the Farm Tour Central at the Chimacum Corner Farmstand at 9122 Rhody Drive.
Friday, September 16
Saturday, September 17 - Self-Guided Tours | 10AM - 4PM
Port Townsend Farmers Market | 9AM - 2PM | 650 Tyler St, Port Townsend

Quilcene Fair & Parade | 10AM - 3PM |

Worthington Park, Quilcene

Finnriver Kitchen & Cider Garden | 12PM - 8PM | 124 Center Rd, Chimacum

SOLD OUT | Wheat Weaving Workshop | Finnriver Cider Garden

Barn Dance at White Lotus Farm | 6PM - 10PM | $10 | 3723 Beaver Valley Rd
Sunday, September 18 - Self-Guided Tours | 10AM - 4PM
Chimacum Farmers Market | 10AM - 2PM | 9122 Rhody Dr, Chimacum

Finnriver Kitchen & Cider Garden | 12PM - 8PM | 124 Center Rd, Chimacum

SOLD OUT | Wheat Weaving Workshop | Finnriver Cider Garden
Stay up to date with Farm Tour by subscribing to our
eNewsletter
and LIKE us on
Facebook
!
Self-Guided Tours
10AM - 4PM | Saturday & Sunday


Featured Farms
*Open for in-person, self-guided tours Saturday Only.
**Open for in-person, self-guided tours Sunday Only.
Outdoor Movie
Charlotte's Web
7PM - 9PM | Worthington Park, Quilcene
Donations Gratefully Accepted


Charlotte's Web is a 1973 American animated musical drama film based upon the 1952 children's book of the same name by E. B. White.
Like the book, the film is about a pig named Wilbur who befriends an intelligent spider named Charlotte who saves him from being slaughtered.
The film was directed by Charles A. Nichols and Iwao Takamoto from a story by Earl Hamner Jr., and features the voices of Debbie Reynolds, Paul Lynde, and Henry Gibson, alongside narration by Rex Allen.
Charlotte's Web also features a song score of music and lyrics written by the Sherman Brothers, who had previously written music for family films like Mary Poppins (1964), The Jungle Book (1967), and Chitty Chitty Bang Bang (1968).
Barn Dance
Kick up your heels at White Lotus Farm!


Saturday | 6PM - 10PM
3723 Beaver Valley Rd, Port Ludlow
Admission $10
Gates opens at 5:00pm. Event ends promptly at 10:00pm.
Parking is limited. All attendees are asked to carpool.
Food and beverage vendors available onsite.
6PM-8PM - Jack Dwyer & Friends
Jack Dwyer is a multi-instrumentalist, singer/songwriter, and teacher based in the Pacific Northwest. He records and performs original music under his own name and works as a freelance picker with some of the most respected Northwest and nationally-based musicians as he tours year round.
8PM -10PM - Sweater Weather String Band
With members drawn together from all across the Salish Sea by a mutual love of traditional music and knitwear, Sweater Weather String Band blends old-time, honky-tonk, Celtic, and indie rock influences into a style that has been likened to "the frolicking of sheep before a thunderstorm."
Formed from a series of jams and impromptu gigs, the band quickly developed a wildly danceable sound that's been heard at festivals, folk dances, and bars throughout the Northwest.
Adam Amr: Drums & Percussion
Rico Vinh: Banjo, Vocals
Colin Schmidt: Bass
Joey Gish: Fiddle, Vocals
Collin McAvinchey: Mandolin
Will Jevne: Guitar, Vocals
Resources
WSU Jefferson County Extension
WSU Jefferson County Ext programs connect the people and communities of Jefferson County with the knowledge base of Washington State University to promote quality of life and advance economic well-being through fostering inquiry, learning, and the application of research.


WA Food & Farm Finder | Eat Local First
Eat Local First is the trusted source for finding local farms and identifying the restaurants, markets, and food businesses that purchase from local food producers.


Food Bank Growers
We are the growers, gatherers, preservers, cooks, food bank workers, and innovators working to provide safe, nourishing food for our Jefferson County neighbors.


Farmland Forever
Jefferson Land Trust works with farmers and funding agencies to preserve farmland by purchasing agricultural conservation easements that keep the land available for agriculture while compensating the landowner for the loss of development potential. This ensures prime farmland is not developed, helps to keep it affordable for the next generation of farmers, and provides a capital boost to local farm businesses.


Organic Seed Alliance
Organic Seed Alliance advances ethical seed solutions to meet food and farming needs in a changing world. To advance this mission, OSA serves growers working with seed across the US at any scale through participatory research, practical education, policy advocacy, and network development.